As a blogger, you can get caught in a plethora of marketing trends. However, growing an email list is one of the most successful and time-tested strategies.
The ability to send emails to your list and build automatic messages for new subscribers are two of the most important aspects to look for in an email autoresponder.
Businesses know this, so there are a ton of email marketing solutions to pick from. This article will look at AWeber, one of the most popular email marketing solutions.
A Brief Overview of AWeber
AWeber is a global leader in email marketing software for small businesses. AWeber, established by Tom Kulzer in 1998, has over 20 years of proven success in helping over one million businesses globally reliably connect with their prospects and consumers with simple email marketing software.
With its award-winning 24/7 US-based customer service, AWeber allows you to construct responsive landing pages quickly, load and manage contacts, send stunning emails, and evaluate outcomes without being a computer wiz. In addition, AWeber collaborates with over 1,000 partner software solutions, allowing clients to effortlessly interface with the apps and services on which they rely to run and develop their businesses. AWeber is a privately held firm based in Chalfont, Pennsylvania.
Watch AWeber Tutorial for Beginners on Metics Media YouTube channel:
A Breakdown of the Main Features of AWeber
AWeber makes it simple to send visually appealing emails. They specialize in email marketing but have a comprehensive integration library to connect it to your marketing stack. There are additional useful features, but these will be the most important while initially getting started.
Here are a few of their outstanding features:
1. Email Templates
To get started, choose from 600+ designs. All layouts are fully customizable and mobile-friendly. AWeber includes adjustable templates for designing messages, just like most email marketing solutions. AWeber has a large number of templates, divided into 17 groups.
2. Drag and Drop editor
Click and drag content blocks to create flexible layouts—a block editor with drag-and-drop formatting headlines, paragraphs, images, coupons, and product listings.
3. Canva Integration
Canva's easy-to-use graphic creator is available for free. Make professional-looking graphics and include them directly into your email template. AWeber's free image stock library has over 6,500 images. But it's AWeber's collaboration with Canva that makes its picture selections the finest.
AWeber's email message editor and landing page builder include the Canva Button. So all you need is an active AWeber and Canva account to get started.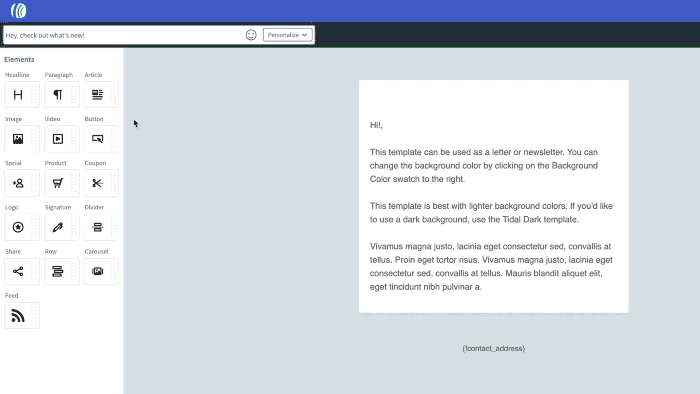 4. Blog Broadcasts
Blog broadcasts deliver messages containing content from your blog to your subscribers at a frequency of your choice whenever you make posts to your blog. This is accomplished by combining your blog with your blog broadcast template via your blog's RSS feed.
Currently, every 30 minutes, all RSS feeds are checked for updates. AWeber employs three critical factors to evaluate if a blog post will be integrated into a new blog broadcast: the URL, title, and publish date. Each unique item published to an RSS feed has its URL and title (which you can find in your RSS feed under the link> and title> tags, respectively). The item will also have a publish date (the date added to the RSS feed), which may be found in the pubDate> tags.
Here's a link on How you can create a Blog Broadcast.
5. Smart Designer
Using a website URL from a page that supports your business, Smart Designer can be used to generate a gorgeous email template in seconds. It will provide you with a fully functional, customized email template in seconds. Smart Designer can develop a template for you whether you are an existing AWeber customer or want to open an account.
The Smart Designer makes it simple to build email templates consistent with your brand. It's also an easy way to turn a web page's information into a newsletter.
6. App Integrations
AWeber has around 750 integrations with other web apps. These let you link the platform to other essential cloud-based solutions, including website builders like Wix or Shopify, CRM applications such as Capsule, landing page builders such as Instapage, etc.
Some of them include dedicated widgets; others entail adding a snippet of code to a website, and still, others involve using a sync tool such as Zapier or Pie Sync.
Some of the most popular integrations are:
WordPress

Shopify

Salesforce

Unbounce

GoTo Webinar

Magento

WooCommerce

Freshbooks

ClickFunnels
7. Landing Page Builder
AWeber allows you to create standalone signup forms for new subscribers. Alternatively, you can create a landing page with a form included. In either case, the goal is to increase your subscriber list.
AWeber builds landing pages with the same drag-and-drop engine to construct emails. It's great to have consistency, especially if you're new to creating emails and web pages. The main difference is that you can add other content pieces. By default, every landing page template includes an in-line form. However, you can remove it and replace it with a pop-up form.
8.  A/B Split Testing
A/B testing, often known as split testing, is a way to evaluate the efficiency of your email marketing scientifically.
When split testing an email, you construct two versions (called variants) to see which one performs better statistically. Depending on what you learned about the successful email, you can alter your email strategy once you've determined which email variant performs best.
Split testing is an excellent technique to see what works and doesn't in your email marketing. Rather than presuming that your customers prefer one type of email over another, conduct a split test to find out for sure.
9. 24/7 Customer Support
AWeber's customer support is unquestionably one of the product's best aspects. All paid-for plans include phone, email, and live chat support, which compares favorably to some significant competitors such as GetResponse, Mailchimp, Campaign Monitor, and Mad Mimi, which do not offer phone assistance on regular subscriptions.
Furthermore, the organization has won multiple Stevie Awards for customer service throughout the last few years, which bodes well for the kind of help you'll receive when you contact them.
Pros and Cons of AWeber
Is AWeber an effective email marketing tool? It is dependent on your needs. The most significant advantages and disadvantages are outlined here.
Pros
Allows you to get a preview of an email before sending it.

While there are certain style restrictions, you have a lot of flexibility regarding the content you may include in your email.

All Aweber subscriptions include a unique Call Loop function that collects subscriber phone numbers and allows you to send SMS (text messaging) and voice mail messages to your subscribers. (Keep in mind that the rules for SMS communications are different — and more rigorous — than those for email marketing.)

Provides spam protection to ensure that all of your emails reach their intended recipients.

It lets users choose who receives their emails and who is interested in them.
Cons
The list segmentation might be more seamless because they still employ a list-based labeled approach, which can sometimes be confusing.
Although Drag and Drop is a fantastic feature, it does not appear to operate perfectly on some themes while it works on others.
AWeber Pricing Overview
AWeber is available in two versions: 'Free' and 'Pro.' AWeber comes with a completely free version. For example, if your email list has less than 500 members, you may send 3,000 messages each month. The free plan also includes nearly all of the company's features, such as limitless landing pages, sign-up forms, automated email campaigns and users, hundreds of powerful integrations, and award-winning customer service.
The AWeber Pro plan is based on the number of subscribers on your list and starts at $19/month. All of AWeber's features are available with the Pro plan.
The 'Pro' plans have the following pricing structure:
From 501 to 2,500 subscribers, the monthly charge is $29.99

From 2,501 to 5,000 subscribers, the monthly charge is $49.99

From 5,001 to 10,000 subscribers, the monthly charge is $69.99

From 10,001 to 25,000 subscribers, the monthly charge is $149.99

For over 25000 subscribers: Contact For Price
If you purchase an AWeber account on a quarterly or monthly basis, you can save roughly $3 per month; there are also some discounts available for students and non-profit organizations.
Aweber provides you with all of the tools you'll need to run a successful email marketing campaign. In addition, you have an easy-to-use interface and a good support system that makes it simple to start and sustain your email campaign.
Get Started with AWeber today.